At some point, when no one was looking, Gemini Cricket grew up. A band that a year ago (delightfully) sounded like the sweetest little sugary group you could ever book for your young elementary-school son's birthday party is in the process of becoming something more sullen, if not downright dirtier & nastier than any of us ever could have imagined.
Gemini Cricket is the virile offspring of a married couple—for only a married couple could conceive of something so simultaneously wholesome & frightening—named Blake and Sara, and an eavesdropping neighbor on drums named Marie. When I saw them last year, they were all kazoos & handclaps, shy winsome smiles. Last month at the GoBar they seemed about to spontaneously combust, lost in reverb and sharp angry guitars. Check out the latest demos posted at
www.myspace.com/geminicricketband
if you're interested in proving that such a thing as evolution exists. Even the most hardened creationist, darwin-hating, evangelist would throw up his hands in surrender when presented with the band's supernatural mutation from the slide-whistling, self-deperecating, insect-mentioning, nursey-rhyming "Cricket Theme" to the stomping, filthy "Sizzle Pop".
From childish. . . to Billy Childish.
From bagged lunch. . . to Naked Lunch.
From this...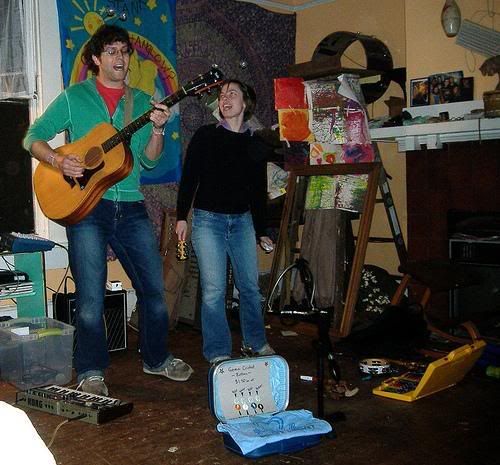 To this...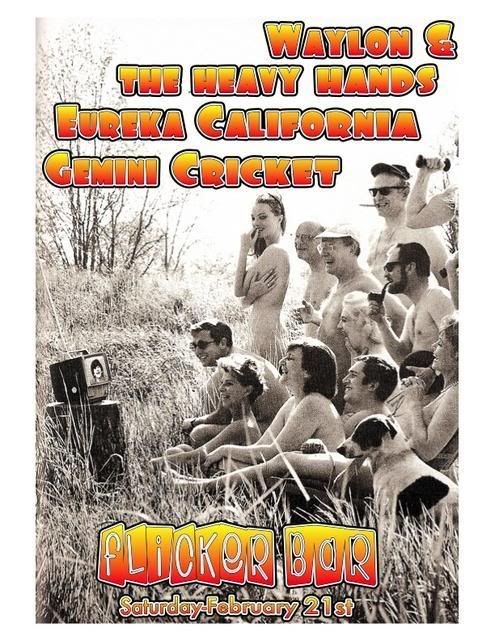 They're also playing with Sphinxie, a band who spits genius, and a band who seems fundamentally incapable of purusing anything resembling a "career". Watching them promote themselves is like watching the shy kid at your junior high trying to get up the courage to ask someone to dance. If you see Sphinxie on the street, go up and ask them to dance. You'll be glad you did.
Gemini Cricket's new recordings are from a session they did last month with local producer Jesse Stinnard. According to this week's Flagpole, the session should result in a 7-song ep. They are playing tomorrow night at Flicker. And again at Flicker on March 6th for those of you who don't want to miss out on the Aux Festival--oddly not a french derivative of 1983's "Us Festival," a concert that should be best remembered for this guy...
I think Gemini Cricket could take him in a knifefight, along with his sissy bandmates.